Direct Mats is the largest supplier of EVA jigsaw mats and gym mats in Australia. Our training mats are the first choice for many professional gyms and organisations. Our jigsaw mats are constructed with EVA foam which helps reduce the impact when training. Whether you require a single jigsaw mats or a large quantity of EVA jigsaw mats we can meet your needs.
EVA Jigsaw Mats
Our interlocking EVA jigsaw mats come in a variety and colours and sizes for you to chose from to ensure there is a mats for every application. Our mats are in high demand with customers through out Australia. Direct Mats are the preferred supplier for schools, hospital, police forces, and day care centres.
We currently supply the following EVA jigsaw mats:
40mm Gym Mats
black / grey
black / red
blue / red
yellow / black
30mm Gym Mats
black / grey
black / red
blue / red
yellow / black
20mm Gym Mats
black / grey
black / red
blue / red
yellow / black
All our 40mm jigsaw mats are also available in tatami finish. They look great and are especially popular with traditional martial arts schools that appreciate the tatami look.
The mats are dual colour so that it is easier for you to create boards so you can mark designated areas in your gym.
We can also supply custom coloured mats on special order. If you require a certain colour mat then we can arrange for you. Longer lead-times will apply as the mats are manufactured off-sure.
Contact Direct Mats
Contact Direct Mats for your EVA foam mats requirements or simple purchase the mats online.
We offer discounts for larger orders (100+ Mats) so be sure to contact us if you are fitting out a large area. Foam mats are ideal choice for your gym.
For a complete range of gym mats contact us today. Direct Mats is a premium supplier of gym mats. If you are looking at replacing existing gym mats or are fitting out a new gym give us a call. We stock everything from MMA mats to wall mats and beyond.
EVA Mat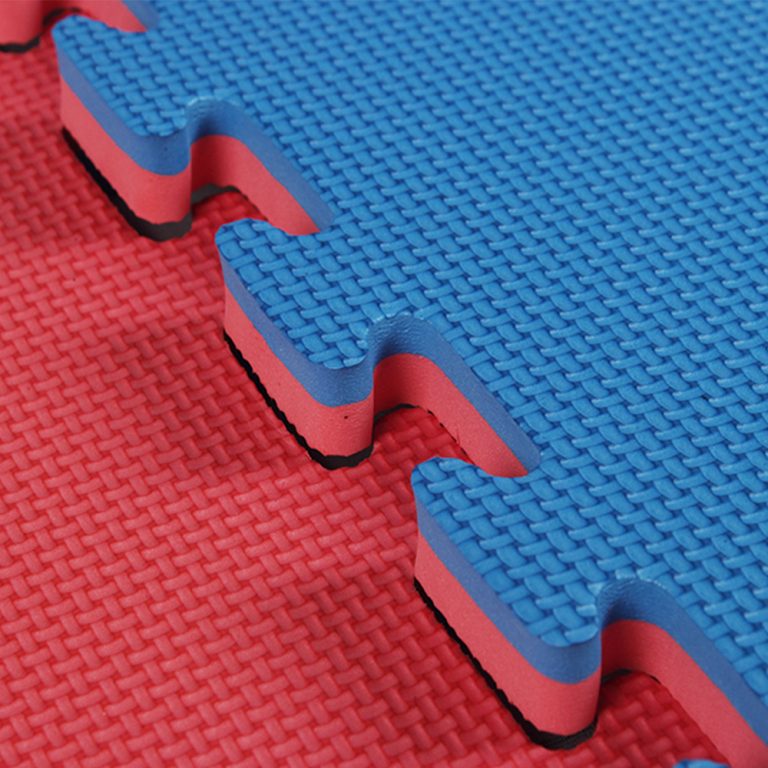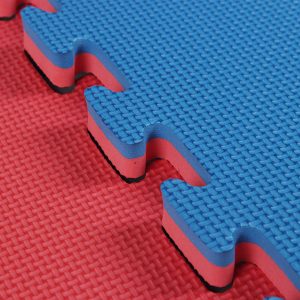 People often underestimate the value of a good training mat. When you exercise on an inferior mat or just a hard surface you need think of the risk you're putting yourself through while practicing on those kinds of mats. You can end up drained and fatigued and not because you had a good exercise. If this seems familiar, maybe it's time to buy a good gym mat. Read on and find out what are the most important things when choosing a jigsaw mat and where you can find one that suits your needs.
Before Buying a Jigsaw Mat or Large Foam Mats
There are many things you should know about jigsaw mats before buying one. It's not an investment you're going to make that often but it certainly is an investment in your health, comfort, and safety. Buying a quality eva foam floor mats will prove to be a good investment in the long run.
When you buy a foam mat, make sure you check the thickness, the weight of the mat and the quality of the surface. It's also important for the mat to have edging on all four sides to ensure durability. It also helps you fill the gaps when the mats are up against a wall and it looks better overall.
Description of the product
The best foam mat currently available on the market is certainly the EVA jigsaw mat. They're easy to place anywhere and on different surfaces. The mats are easy to carry since they are light-weight. All of our mats come with edging on all four sides which ensures comfort and longevity of the product. The mats are easy to clean and water repellent. They are also inexpensive which makes them ideal for the budget minded.
It must be noted that the mats are for indoor use only and should not be left outside or in the rain. Also it is a good idea to leave them out of direct contact with sun light as it will cause the mats to fade and may cause shrinkage.
What are they good for?
EVA jigsaw mats are perfectly designed and suitable for many different exercise activities. They are also convenient for martial arts such as Judo, Jiu-Jitsu, and Aikido because of the quality padding on them. The thickness of 40mm is will go a long way to keeping you safe from injuries during your high-intensity training. For other activities such as light practice, karate, taekwondo or kung-fu, we recommend our 20mm EVA jigsaw mat. They are delicate and easy to carry but nevertheless durable. Ezy Mats gym mats can be used for home-based exercise spaces and children's playing areas.
Keep Safe During Training
While exercise mats are good at helping prevent injury they are not a substitute for common sense. It is always important to formulate a well planned exercise regime which takes safety in consideration. Taking care during training is the best strategy to ensure a healthy outcome. For example the mats will not protect you from activities which might cause you to fall on your head. These mats are made of eva foam tiles. It might sound silly by have been asked this question before and found it baffling.
Taking everything we said into consideration, it should be easy for you to pick the right gym mat or EVA mat. Years of our expertise and hundreds of customers prove that some of the best jigsaw mats are available from Direct Mats. Pick out the one that suits your needs and turn your exercise into a care-free activity!