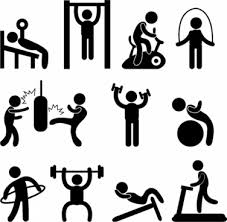 Every Gym Needs Foam Mats
There seems to have been a resurgence or gyms lately especially with the advent of the 24 hour gym. Indeed 24 hour gyms are all the rage at the moment and have really taken away a lot of business from regular traditional gyms. Traditional gyms are struggling nowadays because people want flexibility away from all the contracts and nonsense. I mean how important is it to be able to buy a protein shake from the gym bar when all you need is a vending machine with some water and juices. Even though the format of gyms is changing lots of the fundamentals have stayed the same.
Foam Mats & Rubber Mats
Even though some things have changed there is one thing that hasn't – the need for foam mats. Although you will still find carpet in the main areas and rubber mats under the weight you will still find foam mats in almost ever gym. That is because almost every gym still needs to have an aerobic type of train area. Any time you have vigorous activity happening you need to have some foam mats to lessen the impact. Gym owners know that the training public demands it and of course the customer is always right. Plus there is the added benefit of reducing the impact of training so the gym users can keep coming back
Jigsaw Mats
The most common form or foam mats are jigsaw mats. Jigsaw mats are the most popular form of foam mats because they can be easily installed and they are inexpensive. They are also easy to replace if one of them gets damaged, instead of having to replace them all. The other alternative would be to have a patch where something has happened which would look unseemly. Jigsaw foam mats have been around for ages simple because they are so convenience and gyms were amongst the first to embrace them.
Although gyms were amongst the first to embrace foam mats they are not the last. You can bet that you will see them wherever you go for years to come yet.
Every Gym Needs Foam Mats