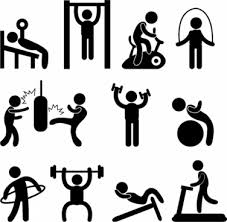 Home gyms are a wonderful thing to have. They give you the freedom to training when ever you want and how ever you want. You don't have to worry about sweaty equipment left behind by the grubs that frequent these gyms, dirty towels all over the place and machines being used when you want to use them. Sure the proliferation of 24 hour gyms helps but with cheaper gyms come more of the above. So doing it yourself is a great way to go. The best thing is that you don't have to be loaded to be able to do it. People from all demographics have access to great gym equipment to buy.
Get Some EVA Mats For Your Gym
That is why people opt to have their own home gyms these days. Sure there are draw backs with have a home gym. Firstly you need to have the space. Secondly you have to fork out for all the equipment. But despite the draw backs people are still aiming for having just that. And these days you don't have to be a millionaire to have your own home gym. The most important thing is that you have some MMA mats or EVA mats to start with. It is important to have some good MMA or EVA mats in your home gym because you want to start off doing things right.
Something to fit your budget
When thinking about the best equipment for your mats should be the first thing on your mind. With MMA mats and EVA mats there are a few things you should be looking out for. Are they good quality? Will they last long? How much do they cost and will they fit within your budget? These are all things that you should think about before you embark on fitting out your home gym. If you pick the wrong MMA mat or EVA mat then you might regret it. So chosing the right mat and taking the time out to get the best training mats for your gym is always worth the effort.
MMA Mats and EVA Mats For Your Gym