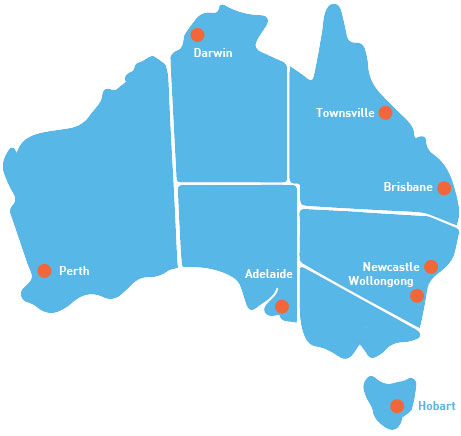 Premium Mats for Your Training
Direct Mats is a leading provider of incredible gym mats throughout Australia. We've got a selection of multi-purpose foam mats that are perfect for any gym floor. They're available in different sizes and colours, depending on personal preference.
Our gym mats come in three different varieties:
Each type of mats has unique properties that make the mats perfect for certain activities and ideal for any floor space in your gym.
Jigsaw Mats
Our jigsaw mats are made from EVA foam which gives them amazing durability and impact resistance. They come in three different thickness varieties; 40mm, 30mm, and 20mm. The thicker the mat, the more resistant it is and the higher impact it can handle.
Traditionally, these mats are designed for many high impact sports such as martial arts and wrestling. Due to the thickness of the mats and their resistance to heavy loads, they're also fantastic for use on the floor of a weights section in your gym.
They're durable enough to handle weights being dropped over and over again. Our jigsaw mats can provide your gym floor with a cushioned surface to help protect the natural floor beneath as well as protecting your weights.
These mats are easy to put down and interlock like a jigsaw – hence the name. We offer various colour options as well as the thickness varieties mentioned earlier. They're very popular amongst our customers who want to protect themselves from injury along with protecting their gym equipment.
MMA Mats
We sell high-quality MMA mats with a smooth vinyl finish. These mats are made with compressed foam to help give them some extra bounce and be effective at absorbing shocks. They're primarily used for mixed martial arts practice and other activities that involve grappling.
Our MMA mats come in black/grey, and they're 1m wide, 2m long, and 40mm thickness. This makes them perfect for a cardio area of your gym. Lay them down on the floor, and your customers can use them for ab work and stretching routines. Due to their thickness and the compressed foam, they're also perfect for jumping activities such as burpees or jump lunges.
These mats provide perfect support and cushioning for your customers, ensuring they don't suffer injuries as a result of high impact work on their joints.
You can order these in bulk, and we offer discounts on the cost per mat when you buy more in one go. If you're interested in these mats but don't want them in grey or black, contact us, and we may be able to sort you out with a custom colour.
Tatami Mats
Our premium Tatami mats are also made with compressed foam, but they have a special Tatami finish. This finish isn't smooth like vinyl, it includes multiple mini bumps and grooves to provide extra traction. Again, this makes them perfect for mixed martial arts training as well as grappling and wrestling work.
We sell these mats 1m wide, 2m long, and 40mm thick. They're the perfect size for individual use, making them ideal for a free section in your gym. The extra grip provided by the Tatami finish makes them the perfect stretching match. It also keeps traction on the mat even when they're wet with sweat. So, your customers can finish up on the treadmill and stretch on the mat without worrying about slipping and pulling any muscles.
While the extra grip might be their standout feature, these mats can also absorb high impacts. They can easily handle a couple of kettlebells or medicine balls falling on them without being damaged.
Much like the MMA mats, these mats are available in black/grey, but custom colours are available by special order.
Buying Quality Mats For Your Gym
It's crucial that you buy quality mats for your gym or training area. When you have clients that like to practice MMA or wrestling moves, they need a safe surface to train on. All three of these mats provide suitable protection and cushioning for high impact activities. This keeps your clients safe and ensures there are no injuries in your gym.
Similarly, our premium mats help you protect your property. If you don't have a high-quality mat in your weights section, you run the risk of damaging the floor and your weights. This can lead to costly repairs, which you simply don't need to pay for. Instead, buy our mats, and they will safely handle any weights dropping without causing damage to anything.
For more information on any of our premium gym mats, feel free to contact Direct Mats today!