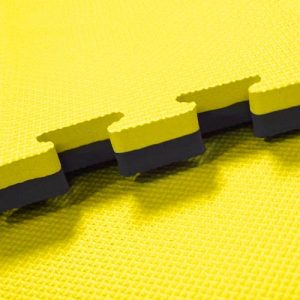 When it comes to buy mats for your gym sometimes all the options can make the decision confusing. Try to decide what the best martial arts mats for your gym is can be a real nail biter. Not to despair! We have some answer which might make your decisions that little bit easier.
Different Kinds of Martial Arts Mats
There are a few different kinds of mats available which you would classify as martial arts mats. It is true that training mats can be used for a variety of activities but if you are asking specifically about martial arts training there are a few which comply.
One of the most obvious choices is the jigsaw mat. Jigsaw mats are a mats which are made from EVA foam. They are a sturdy mat which is inexpensive and light weight. They generally come in two tone so that you can create boarders in your training area. Jigsaw mats are also light weight which makes them great if you want to be move them around.
Tatami Martial Arts Mats
If you are looking for something more premium then tatami mats might be more your style. Tatami mats have a traditional tatami finish which is reminiscent of their Japanese connection. They are made from durable vinyl covering compressed foam. The rubber bottom makes them a good choice as a non-slip mats.
MMA Mats A Good Choice
The other great option is MMA mats. They are just like the tatami mats except that they come with a smooth surface. This is especially attractive when there will be a lot of grappling involved in the training as it reduces "mats burn". Either way both tatami and MMA mats are a good choice when you are thinking about the best martial arts mats.
That said if you have any questions feel free to contact Direct Mats. Our friendly and knowledgable staff are always happy to help.