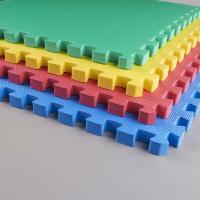 Studies have shown that if you lead a healthy and active life you will live longer and will be less susceptible to illness and therefore a early death. Whilst there are a lot of hereditary diseases out there most illnesses are due to poor lifestyle choices. Gym mats for your training is an absolute necessity.
This is why people increasingly find themselves leading more active lives including exercising more regularly. Regular exercise is recognised as the best way to keep your weight in check and good cardiovascular health.
To achieve a balanced life is not easy and not all people have time to go out or go to the gym. That is why people find themselves training more and more at home. Whether in the garage, outside or some other spare space it is always easier and faster to just do it at home.
To be able to train effectively at home it is necessary to have the right equipment. Whilst the first thought may be to equip oneself with weights, exercise bikes and training machine scant regular is often given to the right gym mats.
Indeed gym mats should be one of the first things anyone should think about when deciding to train at home. Gym mats are probably the most important piece of equipment that you could have in your home. Gym mats are suitable for all sorts of activities and have many benefits to offer.
Gym mats are made from foam which acts to absorb impact when training. It is the fact that gym mat are made from EVA foam that they are so great. It is also why they are also called foam mats.
Foam mats are not only a popular for home use and fitness fanatics. They are also very popular with professional gyms. Which is why next to you go to a gym make sure you check it out and see what kind of training mats they are using.
Gym Mats For Your Training